If you're interested in starting to film your own hunts, the best advice I can give is to JUST START DOING IT. It's easy to get caught up in the latest brands and splurge on the most expensive cameras, but the truth is that you won't know how to use half the functions of that equipment as a beginner. It's a learning process and I didn't start out using the best. Video footage is extremely valuable to companies so I suggest getting started. I enjoy filming because it doesn't allow you to hide behind a picture, it shows your knowledge, it helps others to learn (whether you're a beginner or expert), it's another creative outlet, and it's really nice to document your journey.
Below I have broken down what I used when I started versus what I use currently. I still don't use top of the line because it just isn't necessary for what I do. I'm learning so much every day through trial and error, YouTube videos, and asking professionals. Tip: Embrace the frustrations of technology because you can't get away from it when it comes to producing your own stuff! Here's a list of the items I use for filming AND editing my hunts!
FILMING
CAMERA #1 - main setup
Starting Out:
Sony HDR - PJ670 Handycam
Alternative:
Any handheld camera! Even cell phones have come so far and have multiple mounting options. Just start taking videos of some kind.
Currently:
Canon 80D - Most of my high quality images on my social media, as well as all hunting footage starting around October 2016, is filmed with this camera.
CAMERA #2 - POV cameras
Starting out:
Borrowed a GoPro
Alternative:
Any similar second angle camera is great and there are definitely cheaper options than GoPro! See below for our personal suggestion. Also, you don't NEED another camera. Sure it makes it more interesting and captures raw emotion well, but simply starting to video anything is better than nothing.
Currently:
Ultimate Predator Adventure Cam - We're field testing these now and already impressed by several differences. 4X zoom capability, more vivid/accurate color, viewing screen on back of camera, 4K video option, and 20 included mounting accessories - all for $199! It's equivalent to the quality of a GoPro 4, except you get even more for roughly a FOURTH of the cost.
GoPros - We own 3 GoPros (two Hero 3+ and one Hero 4). We attach one to our bow and have 2 at different angles for more variations.
ACCESSORIES
There are a few things I couldn't live without when it comes to filming, other than the obvious cameras!
Vanguard Tripod(s) - We've been using Vanguard since way before we were ever associated with them. We use the Vanguard Alta Pro 263AB 100 as well as a heavier duty one (it's wrapped in camo tape so unfortunately I can't share the exact model). The key is to make sure you get one that is stout enough for YOUR setup weight.
Manfrotto Flat Base Pro Fluid Head - so smooth when filming, and yes it makes a HUGE difference in the overall quality of your videos.
WD External Hard Drive - We have a 4TB as well as several 2TB. I cannot stress this item enough. Being a digital design major, I lost several projects throughout my college career. BACK YOUR STUFF UP! Don't use your computer memory to hold all of your footage.
POV Camera Accessories - Again, it doesn't need to be GoPro brand, but invest in a couple accessories that allow you to film hands free with whatever camera you choose to purchase. Chest mount, head mount, suction cup, a heavy duty clip, bow/gun mount, etc. As mentioned above, you will get 20 accessories with the Ultimate Predator Adventure Camera.
Extra Memory cards - While this may seem like an obvious item, it's too important not to include on this list. I've had multiple occasions where I needed another card and didn't have one. Extra cards come in handy! Side note: If your memory card is saying "full" but you've already dumped the card, it's most likely because you didn't format the card when you put it back in the camera. This is an option on every camera under the "delete" menu. If you begin filming valuable footage, then it reads "full" shortly after, you cannot format the card or you'll lose that recent footage! This has happened to me. It's a perfect example of why you need backup cards on hand. I've also had a card just all of a sudden not work. Again, you will begin to understand the love/hate relationship with technology very soon.
PhoneSkope - such a cool accessory to have on hand in the field! It turns your phone into a long range recording device by attaching it to your binoculars or spotting scope.
Poseidon Charger - we keep 3 of these in the field! They're great for charging phones or POV cameras. They also double as a flashlight. I'm able to get several full charges for my phone off one battery.
Rode Mic - You can obviously use the mic built into your cameras, but we LOVE our Rode mic (not sure which model, but Rode in general is wonderful!) for capturing the details. Just watch our 2016 New Mexico Archery Elk Hunt on the YouTube channel and you'll see why! The clarity of those screaming bulls will make you smile.
Vanguard Alta Sky 49 Backpack - there are variations in regards to size, but this one is amazing. It holds the 13" MacBook Pro laptop on top of all our filming equipment. I love that I can use it as my carry on for traveling as well.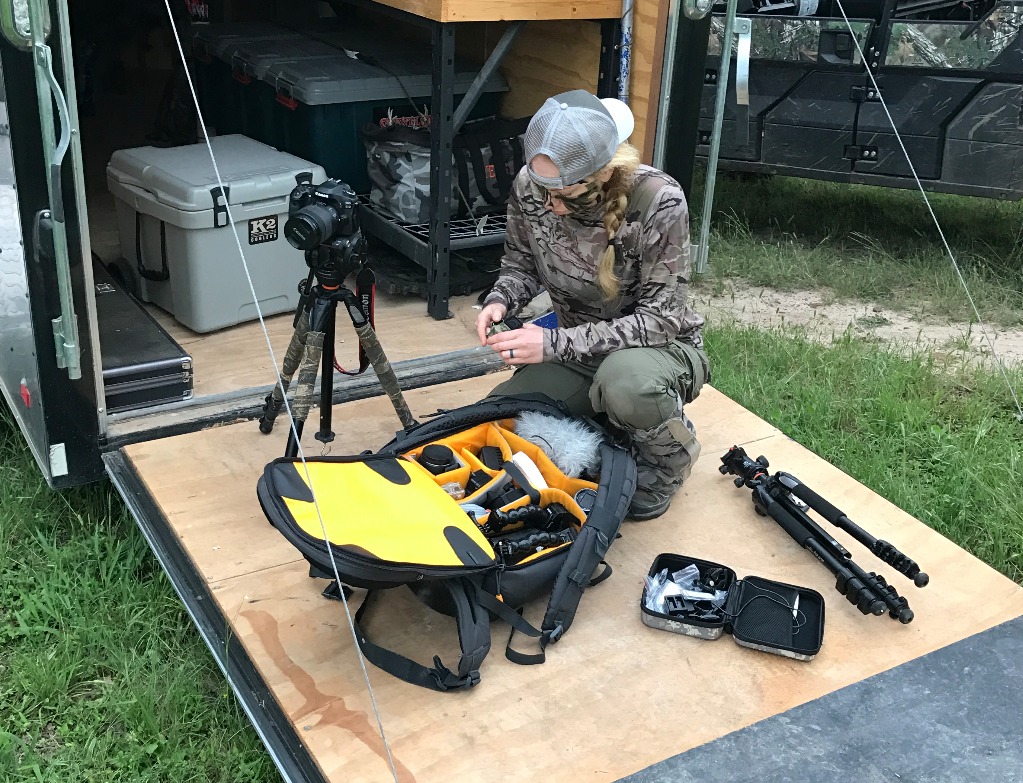 EDITING
Editing is a whole different animal, and similar to camera equipment, you don't need the best starting out. Honestly, if you're a beginner and you purchase the program I currently use, it'll probably make you hate editing. For those that may not know, I went to college for 2D and 3D design, most of which was created on the computer. I've been using these skills for YEARS (truthfully since Yearbook class in high school), but didn't start applying them to the outdoors until I began Followherarow in 2015. I'd say I know these programs pretty dang well, yet I still have days where I want to pull my hair out. This is to make you think twice about jumping into something you won't want to use; it is NOT to scare you from getting started. Take it slow and learn to be patient.
Starting Out:
iMovie which came with my Apple MacBook Pro laptop computer.
Currently:
I now edit on a 27" iMac desktop computer and take my 13" MacBook Pro laptop on the road. I use Adobe Suite for all editing purposes. I pay a monthly membership to have the cloud version so that it can be used on the road. It includes all Adobe programs, however, here's a list of the items I use more than anything, with a breakdown of WHY I use each one.
Adobe Premiere Pro: main program for editing our hunts. Every program following this one is a compliment to it. In other words, you don't NEED anything else, but they're great for many things, especially for marketing all around.
Adobe After Effects: an extremely powerful program for added effects. I mainly use this for opening titles and lower thirds.
Adobe Photoshop: used for many reasons!

I make my ending sponsor credits here then import the file into Premiere Pro to create a scrolling effect.
Sometimes I have to create a transparent background for a company logo. Photoshop allows me to take the solid background out of their logo to be applied to any color I choose. Also, sometimes you need a version of their logo with white text instead of black (or vice versa) so that it shows up well. Please note that I only do this for companies that don't know how. Most brands will have multiple variations to send you and do NOT appreciate any editing of their logo.
I edit harvest pictures that expose too much. For example, I had to edit the arrow out of my alligator head or the excess blood on some of the pigs I've shot.
I create the YouTube video covers/thumbnails in this program; however, you can do this in Adobe Illustrator too (& probably should because anything with text is easier to design in Illustrator)!

Adobe Illustrator: the various logos in my hunt videos are designed within this program. I create MOST marketing content with Illustrator as well - business cards, announcements, my hunting trailer wrap, etc.
Adobe Lightroom: the absolute best way to edit pictures. Keep in mind you can only import RAW images into this program so make sure your settings are right on your camera.
Adobe InDesign: I use this program the least. It's great for multiple page documents. In regards to the outdoors, I used it to design a media kit and continue to update the file when necessary.